SHOWS
I have a record of large scale highline shows and filmprojects. With my background as a physicist I can meet any safety requirements needed for urban highlines.
Examples:
Skyscraper Highline for Samsung (Tower 185, Frankfurt)
Production of a 360° Video for VR-Systems or your phone or tablet. Watch the product online: https://www.youtube.com/watch?v=NZhZXlc4Q7Y.
Skyscraper highline for LG (Tower 185, Frankfurt)
Filming in 3D für LG 3D TVs.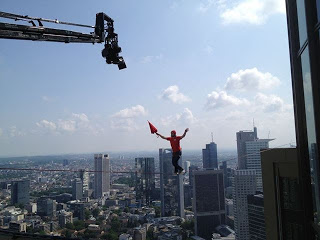 River highline in Graz for Berg und Abenteuerfilmfestival (pic: Flo Käfmüller)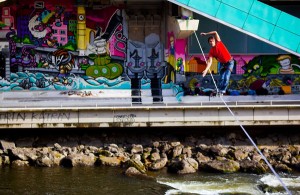 Highline between towers of a church for a street party in Graz
Highline at an artificial climbing wall for the Climbing Youth World Championships, Imst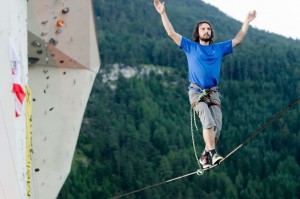 Indoor highline for Outdoor Filmtag, Graz (pic: Mario Ivanic)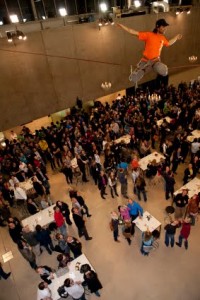 Contact: reini@reinhardkleindl.at
PRESENTATIONS
In my presentations I tell all the stories about my slackline adventures on different continents and show breathtaking pictures and videos using state of the art equipment.
Contact: reini@reinhardkleindl.at
APART FROM THAT …
… I give workshops for beginners and advanced slackliners, wrote a standard textbook about slacklining, wrote articles about safety in slacklining, developed slackline gear with AustriAlpin, did research about rescue technique in highlining and was a judge in some of the biggest slackline competitions, such as Red Bull Airlines and Gibbon Worldcup. A film portrait about me was viewed at the Filmfest St. Anton. I organize events such as the Days of Distance and published a scientific paper about the biomechanics of slacklining.
REFERENCES
Red Bull, adidas, LG, Samsung, Radio FFH, videotape, Berg und Abenteuerfilmfestival, ASVÖ, FH Joanneum, FH Pinkafeld, University of Graz, TU Graz.