The young sport of slacklining is similar to tightrope walking and has become very popular in the past years. Being active since 2006 I am considered one of the pioneers in the field. I have been one of the first to walk slacklines longer than 100m and do backflips on the line. In the following years I competed successfully in competitions such as the Natural Games in Millau or the Austrian Slackline Open and pushed my personal bests up to 305m longline (OS) and 115m highline. I wrote a standard textbook about slacklining.
Right now I focus mainly on higlining, slacklining over canyons, mostly done in alpine environment. I have done highlines all over the globe and some of them attracted great international attention, such as the highlines at Victoriafalls, Tre Cime di Lavaredo or Frankfurt.
My speciality are highlines around the 100m length barrier that are not tensioned, sometimes in alpine environment. I have a background in sport climbing with redpoints up to 8a and 7c bouldering.
Find all my slackline stories and infos about current projects on my blog!
You can book me! Check out my business-page.
Sponsors: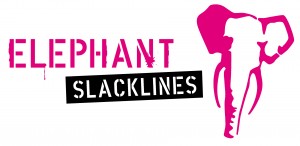 (pic by Jacques Marais)